Dalits in Nagpur set afire police station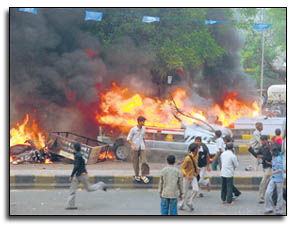 At least 25 persons, including 10 police personnel were injured when an unruly Dalit mob attacked a police station at Indora in North Nagpur area on Jabalpur-Nagpur National Highway and set afire several vehicles, including a police jeep and a couple of two-vehicles of media persons, here on Monday.
Thousands of activists, most of them were from different splinter groups of Republican Party of India, gathered at busy Indora Square this morning and protesting against the brutal murder of a Dalit family in Bhandara district recently. Four members of a Dalit family were killed by upper caste villagers at Kherlanji in the district on September 30.
It was said that the family was killed as they refused to allow the upper caste villagers to build a road over their field.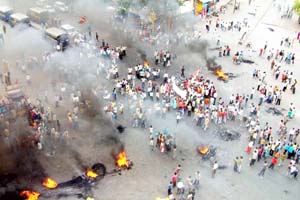 A group of upper caste people allegedly attacked the house of Bhaiyalal Bhotmange on September 30 night. Forty-four year old Surekha, wife of Bhaiyyalal and her daughter Priyanka, sons, Roshan and Sudhir were preparing for the evening meal when they were dragged out, stripped naked, beaten and driven to the main village square. There, both the women were allegedly raped for over an hour before they were hacked to deaths. Bhaiyyalal, however, succeeded to fled from the scene and presently living with his relatives at Bhandara Railway area with police protection.
Anger and outrage builds up across Bhandara district as the horrific atrocity against Dalits was reported in the media. The deputy chief minister, RR Patil visited the spot twice and asserted that the guilty would be dealt with firmly.
VC Rajput, the police inspector of district police control, informed that the district police arrested as many as 43 villagers, including the powerful persons of the village, Kadu Dhande, his wife, Manda Dhande and Bhashkar Kadau, so far in this connection. A heavy police bandobast was also made in the village to protect other dalit families at Kherlanji.
Earlier, angry protestors set fire two state transport buses at Wadi area in West Nagpur.
A tense atmosphere prevailed at Indora, predominantly a dalit locality since this morning when thousands of RPI activists gathered at the busy square. They insisted for arresting of all male-folk of upper caste in Kherlangi village regarding the murder of four members of a dalit family. The rowdy mob attacked the house of Congress legislator, Nitin Raut in the evening and ransacked his bungalow and vehicles.
The protesters even tried to break the police barricades and march towards the police station. They also resorted to stone pelting on police personnel. The police initially tried to scare them away by using tear gas, and then resorted to massive and indiscriminate lathi charge.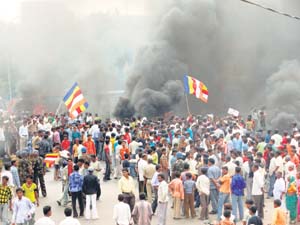 Talking to Hindustan Times, Gangaram Sakharkar, in-charge of Panchpaoli police station, informed that a police sub-inspector, Manoj Kalbande was among the injured police personnel. All were rushed to local government run hospital while nearly the police detained 50.
The city engulfed in chaos:
As the chaos continued, several shops and other businesses establishments in Panchaoli and Indora areas were attacked, along with street vehicles. The vehicular traffic of the Jabalpur-Nagpur National Highway was totally standstill due to the protest since morning.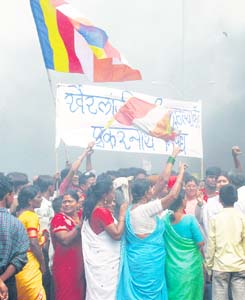 Angry mob also tried to set afire the office and records of ACP, Panchpaoli area.
The dalit protest still continued in several areas, particularly busy Central Avenue, Hingna, Medical College Square and other parts of North and South Nagpur. A heavy police bandobast was made in all areas in the city.