Maharashtra tense after Dalit protests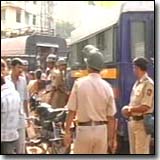 Thursday, November 30, 2006 (Mumbai):

On Thursday, one person was killed in police firing in Osmanabad.

Overall, violence has been far worse outside Mumbai where Dalit tempers were already high because of the massacre of a Dalit family in Khairlanji in Vidharbha.

Incidents of violence were also reported in Pimpri area on the outskirts of Pune. Curfew has been clamped in the town of Nanded.

Five bogies of the Deccan Queen have been torched in Ullhasnagar after passengers were told to get out of the train.

Nashik violence

Meanwhile, Nashik is tense after a night of violence where a young Dalit protestor was killed in a stone-pelting incident. Six people have been arrested in the case.

Trouble began when a statue of B R Ambedkar was vandalised in a Kanpur locality on Wednesday night. Within hours, protests broke out in Kanpur followed by protests in various towns of Maharashtra, including Nashik, Kalyan and Bhiwandi.

Sangli and Solapur, which saw protests after the Kherlanji incident, are also tense.

Most of the protests are being led by various factions of the Republican Party of India - the leading platform for Dalits in Maharashtra.

However, in several cities, the violence has been spontaneous with residents of Dalit areas and bastis spilling onto the streets.


---