Khairlanji Followup : Pune City Level Meeting : Status and Action Plans
Dear Brothers and Sisters in Sangha,
JaiBheem !!!
After working over 20 days continuously, we conducted Pune City Level Ambedkarin Karyakarta's meeting successfully. We had placed two boards in front of the Vihara, one was representing the new papers cutting to show the atrocities happening allover the places of India and other was representing the strong youth force of SSD started by Babasaheb during his timeframe.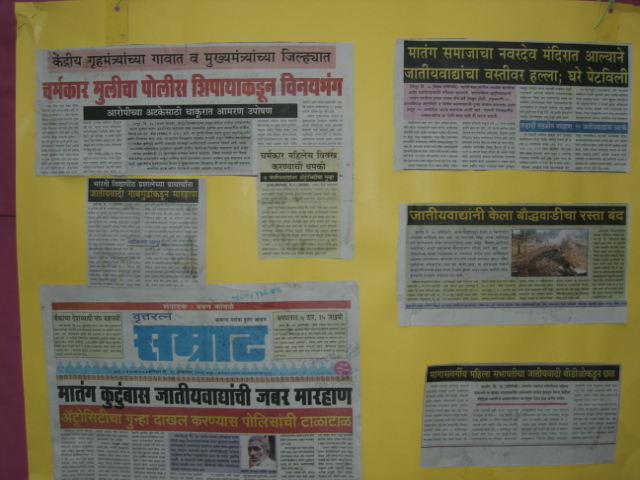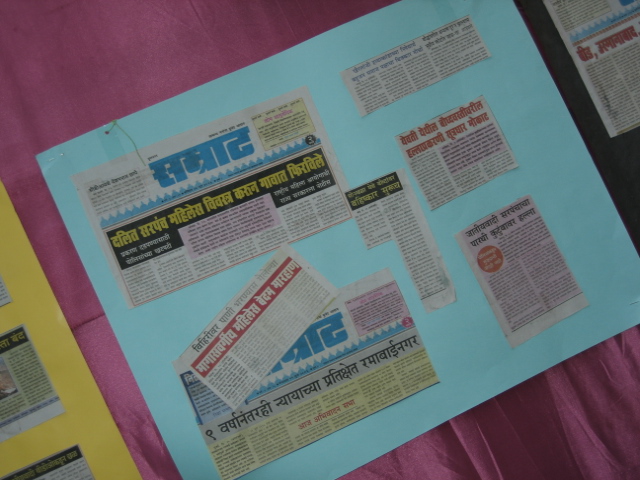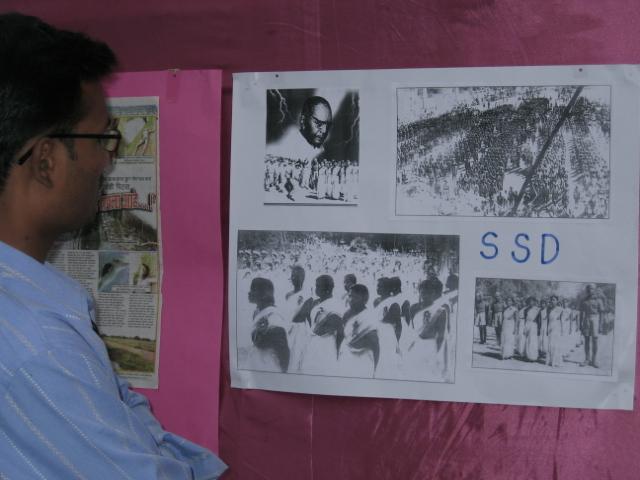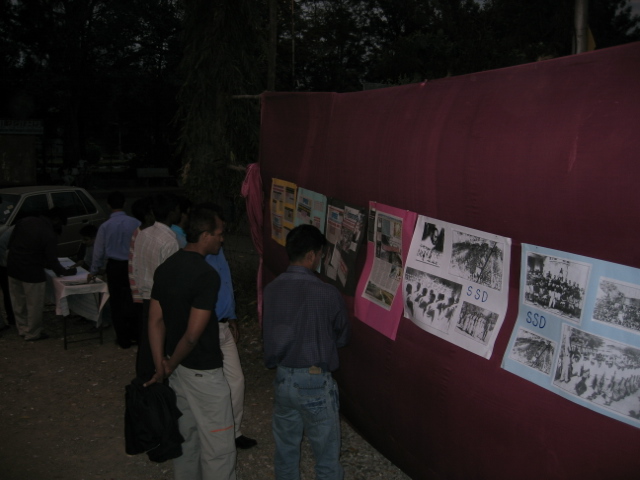 Over 150+ Karyakartas participated in the meeting. Meeting had been started by 6:30 PM and it lasted for more than 3 hours. We started program with Vandana followed by inspirational songs presented by "Kabir Kala Manch".
They presented the current situation of our brothers and sisters those who are living in villages and what type of life they are having in 21st century through songs and music.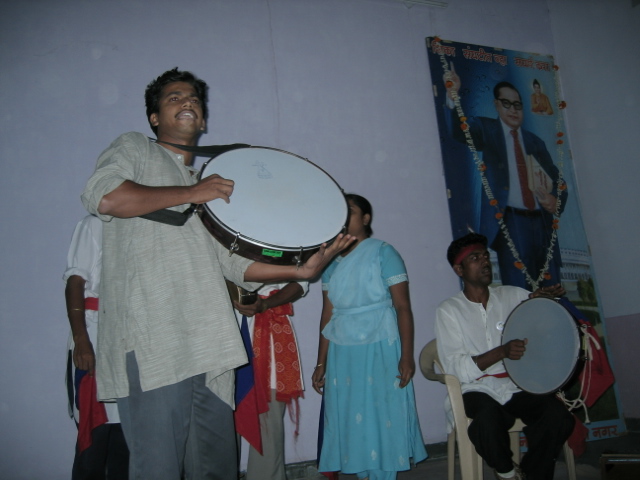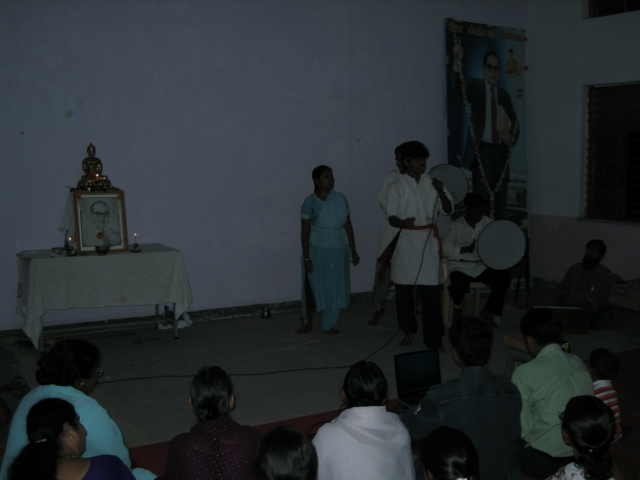 It touched everyone's heart. People started crying and everyone got emotional. No one could have stop crying after listening what is happening daily on our brothers and sisters.
In the song they presented the complete Marathawada (a part of Maharastra where atrocities ratio is too-too high) picture where, removing our cloths, making naked pared and then doing gang raped happens daily. And our people who stay in Mumbai and Pune like cities living Gandu (a slang in Marathi) life as they are not at all bothered about their downtrodden brothers and sisters.
In Babasaheb's word, those who got better education, jobs and good life are not extending their helping hands for their brothers and sisters (not at all having any concerned to uplift them ) are like pests who thrive on the cow dung and don't want to peep out of that shit.
Incidence happened in GhatKopar, Mumbai were also remembered, where around
11 of our people gunned down by police officials without any reason and even after many years we have not been able to give any justice to the victims.
Why it is happening.......everyone know the answer and everyone was in deep thoughts, this anyone could have been observed by seeing the pin-dropped silence in the meeting.
After this, we have presented following points in great depth.
Why we are here together at this time?
What exactly happened in Khairlenji?
What crime victim has made?
Was it planned and who have planned and how?
Who are responsible for this incidence?
How Media is bias with us?
Is this the only incidence? Or this is happening all over India?
The detailed incidence report of Khairlenji presented to everyone. Many people started crying again (few were unstoppable) by seeing the presentation (a slide show) created by
us. We have detailed on the sequence of steps got executed by politicians, local people and what role media played in this.

Everyone shouted in ONE voice......ENOUGH....WE CAN'T tolerate any incidence now on. WE ARE READY TO DIE. Please let us know what NEXT we have to do.
Everyone asked us about the ACTION PLANS ( Kruti Karyakram ).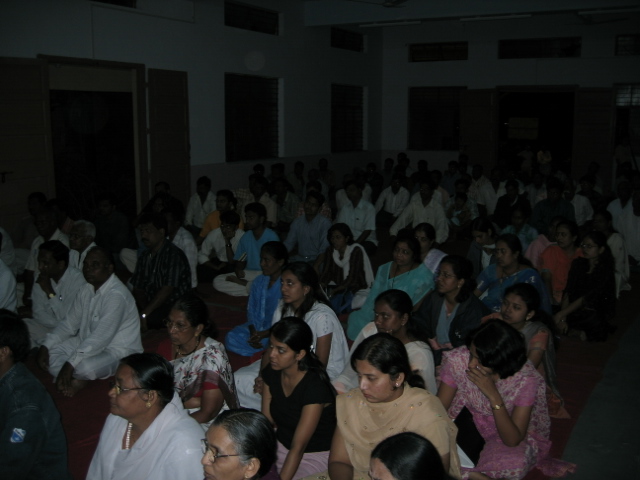 After that, we have called few people among the Janata to express their views
and any thoughts they have in mind to prevent this. After, that we have presented the background of SSD and why it is needed. How can we revamp SSD and prevent the atrocities happening around us. When we presented the complete planning of creating
Sections, Platoons, Battalion, Company and Regiments and the way to prevent the atrocities happening on us (A way to live with dignity, equality, liberty and fraternity), you could have simply seen the confidence level and smile brought on many faces.
We informed them that, this is our long term plan and we are working towards that direction. In the immediate action plan, everyone synonymously declared to have Long March and for that we have set the Steering Committee. People showed their strong commitments and ready to die attitude. It looks like, one person could have been equal to normal 15-20 people. It boosted our group confidence and moral exponentially.
We found that, people were there from different groups and they had expressed themselves to come together and fight against these atrocities.
The members of the steering committee are as below for the Long March:
1. V. T. Kamble Sir 9890026664
2. Dr. Dhende 9422030442
3. Takshak Chahande 09850763950
4. Santosh Saple 9226735970
5. Nita Vinod Adsule 9822783093
6. Ms. Waghamare 020-26698587
7. Adv. Kavita Waman Nirmal 9960345307
8. T. Rajan 9226370873
9. Prof. Gaikawad 9890421811
10. Balasaheb Pandit
11. Jotirao Gaikawad 9850959088
12. Subhash Kamble 9890915273
13. Ratnadeep Hirve 9890922925
We have declared to have Long March at Pune City Level on 14th Nov 2006
at 10:00AM. The route of the long march and way of execution strategy
will get discussed on the 8th Nov 2006's meeting which is at 5:30 PM at
the Samata Nagar.
Dear brothers and sisters, this is the time to fight, come together and act instead of just reading and expressing the thoughts. Everyone has to be the part of the movement and we should not repeat the history that "Educated people betrayed the movement of Dr. Babasaheb Ambedkar".
We once again appeal for raising the funds. We are expecting at least 10 lakhs to create the idle atrocities prevention force (SSD). So far we got only 1.2 Lakhs rupees which is very less in the society where we find people settled in abroad, working in IT sectors and doing businesses, working in good government positions.
Those officials (Specially IAS, IPS officers), who are working in the government sectors and saying that they can't open their mouth against these atrocities and can't talk publicly on these issues, are trying to find out the other way to keep themselves out from the society and restraining themselves from the responsibilities. Every human has rights to speak against the injustice, in-equality and the crimes happening around him irrespective of his position and work.
Samta Sainiks In Mission
- On Behalf of the Team

---